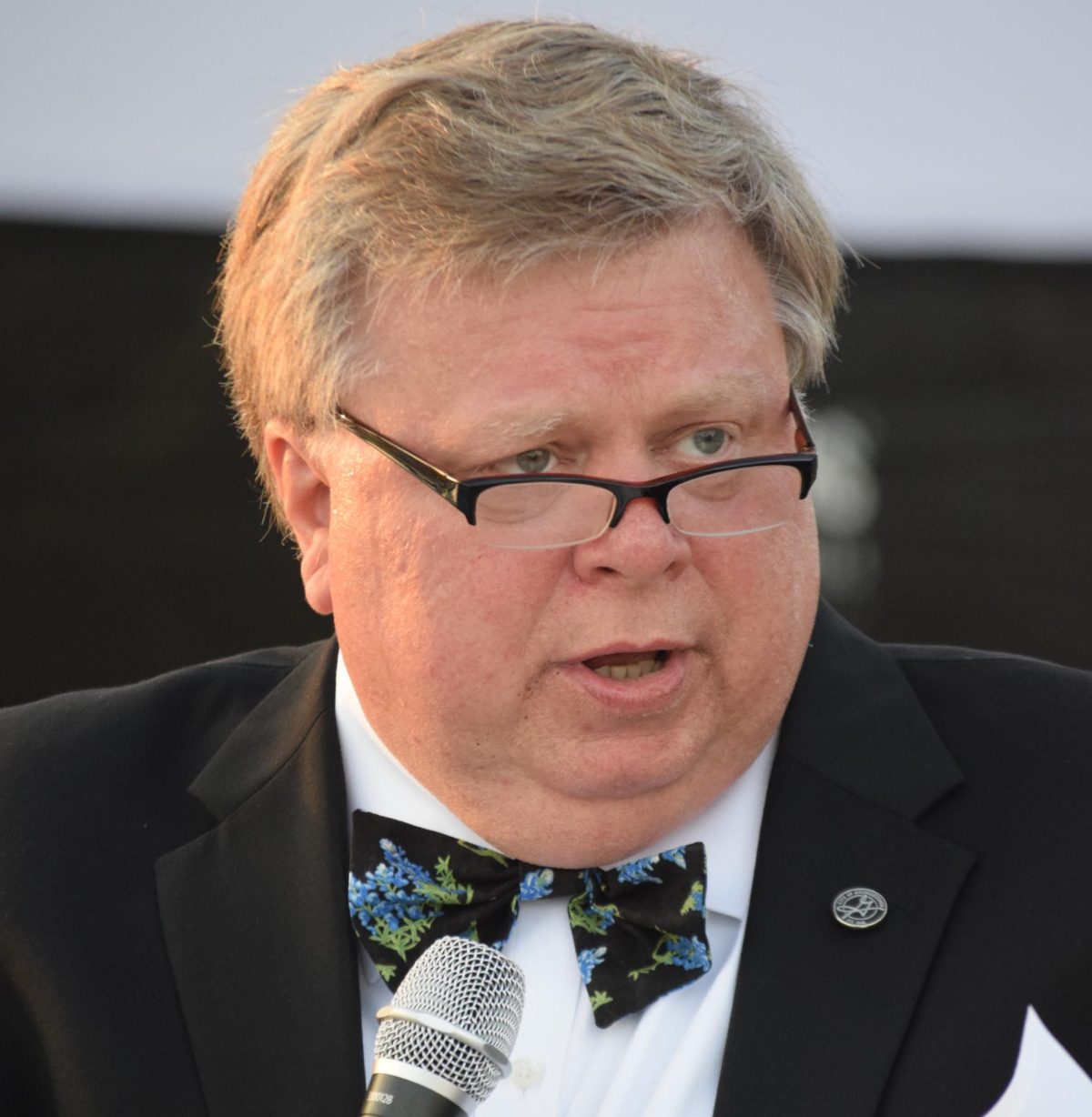 The City of Georgetown has been a work in progress for the last 168 years and we treasure the rich heritage of the past. Our tradition of making history continued in 2016 and below is a sampling of some of the significant events and developments in this amazing city during the last 12 months.
Apparently, the secret is out about Georgetown and we are experiencing tremendous growth. As that growth comes, we are careful to protect those qualities that define our character and traditions. It has been a remarkable year of headline-grabbing innovations, ventures and announcements. We know there are more exciting developments to come as we embrace a bright and dynamic year ahead. We will continue to build a bridge between our storied past and the future which has allowed Georgetown to become the best city on planet Earth to live, work, play, raise kids and retire.
My wife, Mickie, and I wish all the good people of Georgetown the happiest of holidays and a healthy and prosperous 2017.
In May, Georgetown was named the nation's fastest growing city with a population greater than 50,000, according to the U.S.  Census Bureau.  Georgetown's population estimate was 63,716 in 2015, with a growth rate of 7.8 percent between July 1, 2014 and July 1, 2015, adding 4,611 residents in that time period.  Georgetown's population was 47,400 in the 2010 census.  According to the bureau's estimate, Georgetown had a growth rate of 34 percent from 2010 to 2015.  Since May, the pace of growth has only accelerated.  Why are people moving to Georgetown?  Because we have been committed to preserving Georgetown's unique charm and character – from its great school district, to the San Gabriel River, to Southwestern University, to having the Most Beautiful Town Square in Texas.  The City has worked very hard to make Georgetown the community it is today, and will continue to do so, while at the same time planning, preparing, and innovating for the future.
Solar Deal Finalized with NRG; Windfarm Celebrates First Anniversary
The sale of a 154-megawatt photovoltaic solar project to NRG Energy in November moves the City of Georgetown electric utility a step closer to a 100 percent renewable energy supply.  The PV solar electricity plant near Fort Stockton will supply energy to Georgetown through a 25-year purchased-power agreement that starts in July 2018.
Additionally, the Spinning Spur 3 wind project owned by EDF Renewable Energy has been already been supplying the city with energy from 97 wind turbines since it began operations in October 2015.  The wind farm located 50 miles west of Amarillo is under a 20-year contract to supply 144 megawatts of energy to Georgetown.  While Spinning Spur 3 was projected to meet 90 percent of Georgetown's energy needs, over the last 12 months, the electricity output from the wind plant has exceeded Georgetown's consumption, making Georgetown 100 percent renewable for that period.  The excess energy has been sold to the statewide electric market.
Officials completed a ribbon cutting in July to mark the opening of the Sheraton Georgetown Texas Hotel and Conference Center. The 222-room full-service hotel and conference center is at the Summit at Rivery Park development. The hotel includes 30,000 square feet of meeting space, with a 16,000-square-foot ballroom. The new multi-level public parking garage constructed for the project and available for hotel guests, Rivery Park visitors, and the public, was made possible because a public-private partnership with Novak Brothers, the owner and developer for the hotel. The Rivery Park Tax Increment Reinvestment Zone, a partnership that includes the City of Georgetown and Williamson County, reinvests revenue generated by the project to fund the parking garage, improvements in Rivery Park, public roads, and utility infrastructure. The Summit at Rivery Park project will serve as a northern gateway to the Austin metro area and is an anchor for retail, office, and residential development in the center of Georgetown.
Key Staff Hired
Several key staff have been hired in 2016.  In February, City Council was pleased to announce Charlie McNabb as our new City Attorney. McNabb came to Georgetown after serving a total of 27 years with the City of El Paso, Texas, including 10 years as city attorney.
Wayne Reed was also hired this year as the new Assistant City Manager to oversee development services for the City. With almost 20 years of local government experience in both Colorado and Texas, Reed most recently served as the deputy city manager for the City of Centennial, Colorado.
Leigh Wallace was recruited as the City's new Finance Director. Wallace previously served as the corporate budget manager for the City of Austin.
Finally, the City has a new Economic Development Director in Michaela Dollar. Dollar has eleven years of experience working for economic development organizations in Texas and Florida. Her role in business recruitment, retention, and marketing in those cities helped in the creation of more than 2,730 jobs and $659.7 million in capital investment.
Major Transportation Projects
Several major transportation projects will improve mobility in our fast-growing city. Southwest Bypass, which started construction in May, will provide a north-south link from Texas 29 to Leander Road and connect with a County segment to reach Interstate 35. Work continues on Farm to Market 1460 that will become a four-lane road from Georgetown to Round Rock. The Mays Street extension, a project in partnership with Round Rock, will provide a new connection to Bass Pro Drive from Westinghouse Road. Transportation planning work in 2016 included evaluation of the Austin Avenue Bridges, the Williams Drive Corridor, and a new fixed route bus system with options and key decisions in each case expected in 2017.
In October, City Council approved a tax rate of 42.4 cents per $100 of valuation. This is a lower rate than last year, and is actually the lowest rate in Central Texas. In terms of affordability, Georgetown has worked very hard to have the lowest tax rate in the region, as well as very competitive water and electric rates.
Major Facility
Improvements
A number of projects expanded or improved City facilities, including the renovation of Williams Drive Pool, the opening of the "catio", which is a screened porch at the Georgetown Animal Shelter, and the construction of new water storage tanks at Daniels Mountain, Rabbit Hill, and on DB Wood Road at Cedar Breaks. The first phase of renovations to San Gabriel Park began with the completion of a riverbank retaining wall and construction is set to begin next year on the 525-acre Garey Park after the completion of design work.
Rentsch Brewery Incentive
City Council recently finalized a public-private partnership with Rentsch Brewery to help them increase their production ten-fold, as well as and start a canning operation. Their labels will even emphasize their use of 100 percent renewable energy on their products.  Starting next year, Rentsch beer will be made with "Texas sun, Texas wind, and Texas water."
50th Anniversary of the Library
Georgetown Public Library completed a year-long celebration to celebrate its 50th anniversary, culminating in a gala in March. The Georgetown Public Library's opened on March 21, 1966 in a one-room storefront in downtown. They have come a long way since then, hosting their gala in the 50,000 square foot library, which is open seven days each week with a staff of 23 employees and more than 100 volunteers.
Earlier this year, a team from Texas State University conducted a survey of Georgetown residents on behalf of the City.  Overall, City services and programs received high marks in the Citizen Survey. With respect to the overall quality of life in Georgetown, 97 percent rated it as good or excellent and 95 percent think Georgetown is a good or excellent place to raise children.  Almost 80 percent of our citizens feel the value they receive for the taxes they pay are good or excellent. When asked about public safety, 95 percent of those polled think police protective service are good or excellent and 98 percent feel fire protective services are good or excellent.  The City's newest service, EMS medical transports, are rated good or excellent by 97 percent of respondents.