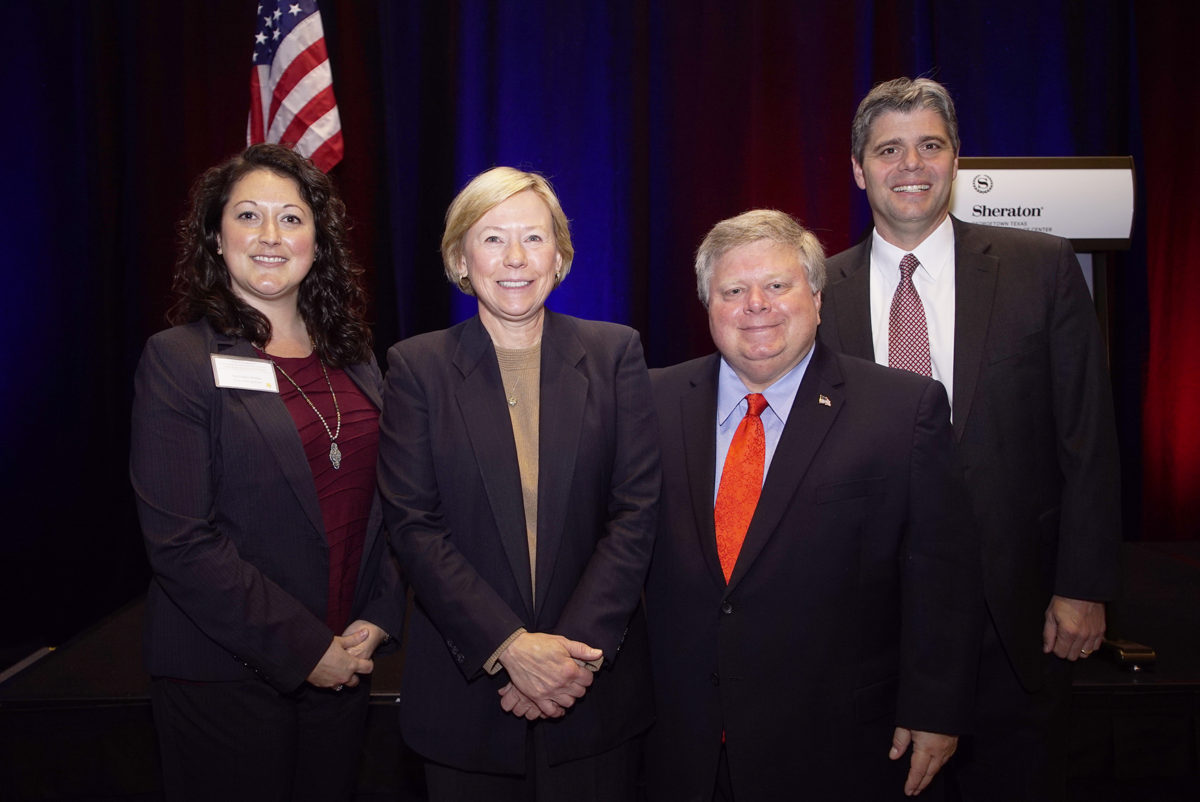 The Georgetown Economic Development Corporation held its inaugural symposium at the Sheraton Nov 29. Economic Development Director Michaela Dollar said, "This is our way of showing the business community we are open for business and we are eager to work with you."
Approximately 160 regional commercial brokers, business leaders, and government officials gathered to hear Dr. Christine Chmura speak on "The Election Economy" and bring some insight to some of the short- and possible long-term impacts of upcoming Trump Presidency.
Before the keynote address, city officials took the opportunity to share "The Georgetown Story" with visitors from all over the region. Many are aware and agree that our region continues to be one of the fastest growing and most business-friendly in the nation. Of the 11 fastest growing cities in America, five are in Central Texas; Pflugerville, New Braunfels, Georgetown, Cedar Park and San Marcos.
Mayor Dale Ross was also pleased again to visit the Sheraton; "Having this Symposium is one of the reasons the Sheraton is already such a game changer. Now we have the facility to enable us to share the city with the world at a higher level. We are no longer a sleepy little town; major realtors and developers are seriously considering us because we can prove that we are the greatest city on planet Earth. We have a world-famous speaker and a respected expert in her field and we are very fortunate to have her so soon after the election."
Mayor Ross' opening remarks highlighted all the reasons people are coming to Georgetown and why those who haven't yet should consider it; public safety, great parks and schools, "all with a Mayberry RFD" feel. "Although you'd expect that with our level of growth, our taxes and crime would too. But they haven't thanks to our City Manager and Police Chief. We're simply blessed and safe."
He also mentioned our move to renewable energy and the city can now boast at least one global company who chose to move to Georgetown for being Green.
City Manager David Morgan reviewed our growth trends; "Georgetown welcomes 13 new people every day; we've grown 40 percent since 2010 and there's no debate about whether that growth is over but how to manage it. We have 1500 projects at least in the planning phase and we continuously make investments in the unique features that make living here attractive; strong services and great schools."
National Impacts
Dr. Christine Chmura is the Chief Economist for Chmura Economics & Analytics. She and her firm provide applied economic consulting for workforce development, modeling, and education, among others. She is also Professor of Economics at the University of Richmond and is among the 50 most influential Virginians.
Many were eager to hear her take on the recent election and what it will mean for Texans. To sum up nationally, she said a Trump Presidency is going to boost short-term growth, but there is no long-term prediction until some of the short-term policies flesh out.
• Texas growth has slipped slightly under the national average but Williamson County continues to grow more quickly than the state / nation for the foreseeable future.
• The Texas economy dipped with depressed oil and gas prices but the state will benefit from an increase in defense spending (third after California and Virginia).
• Corporate tax cuts should stimulate more investment and productivity and decrease price of oil.
• Tax cuts will create an increase in consumer spending; to add to savings or pay off debt.
• Texas employment will outpace the state and the nation. National unemployment is under 5%; Williamson County is 3.6%.
• Williamson County has high, "nearly unheard of" salaries in manufacturing; contributes to a "nice mix" of well-paying jobs countywide.
• Data show an increase of 5000 retail jobs, 5700 healthcare jobs, and 5000 in manufacturing in the past five years.
• Over the next year work-force retirements will create 7000 openings.
• Growth and demand will create 8500 healthcare jobs in next ten years.
In general, Williamson County continues to outperform the U.S. and the  Austin region. For the first term, we can expect a 2 percent growth in employment across all major industry sectors. We will add 58,000 jobs due to the current industry mix and we can also expect to replace 48,000 due to retirement. The highest number of jobs will appear in retail, then education, hospitality and food services, healthcare and professional/scientific occupations.
Next up for the EDC, and for the first time, the Williamson County Growth Summit will be held in Williamson County; at the Sheraton December 15.