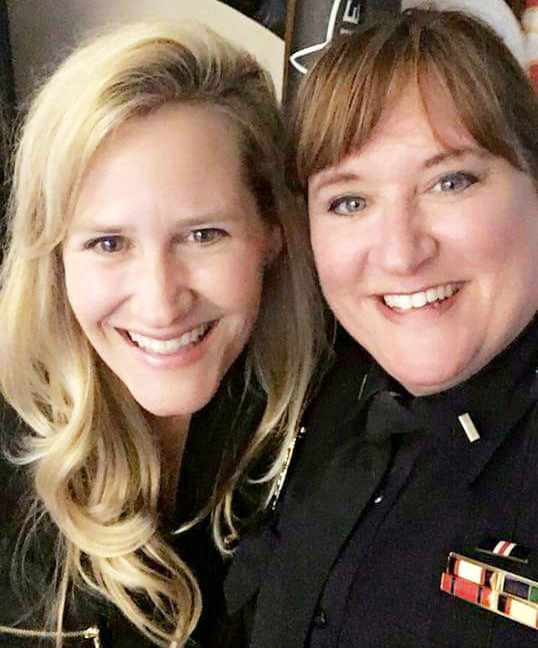 Evelyn McLean has had a year filled with milestones already and she is showing no signs of slowing down. After 26 years in law enforcement, "when some of her fellow officers were still in diapers," and 21 years with the Georgetown Police Department, she celebrated her retirement, sometimes tearfully, May 31 at the Safety Center surrounded by fellow officers, volunteers, friends and family.
McLean began her law enforcement career in 1991 as a Communications Operator for the Pflugerville Police Department, but over time realized she didn't want to sit behind a console while "hot calls" were coming in.
She trained at the Austin County Sheriff's academy, began her career with the Manor PD, worked full-time for the Taylor police department, and later relocated to Georgetown PD.
In 1998 she served on the Williamson County Gang Task Force and was named "Officer of the Year".
She has held a command-level position for 17 years with the Georgetown Police Department and was the first female Captain in the department in 2011.
Captain McLean describes her career as both rich and rewarding. "This career was never about the money or the power for me.  It was for the adventure.  And there's a lot of adventure in the job we do."
As the Republican nominee for Justice of the Peace Precinct 3, she has no plans to slow down in her service to the community and take on a new adventure in leadership.
"Leaders," she said, "we need to remember that policing is about people. It is people who save lives, find lost children, protect the weak, confront the dangerous, stand in all kinds of weather, and even get bitten and spat at and punched and stabbed and shot. It's people who may even pay the greatest price of all. Our job as leaders is to serve them – to look after them and to enable them to do their jobs to the very best of their abilities."
Mayor Dale Ross proclaimed May 31, 2018 Evelyn McLean Day in Georgetown, reading aloud; "Whereas, McLean has been a devoted, compassionate and intelligent leader who turns outward to look at the community and assess their needs and the citizens of Georgetown have benefited greatly from her talents, knowledge, experience and expertise and she will be sorely missed."
Georgetown, however, will not miss her for long. After a vacation to celebrate her retirement and her 25th wedding anniversary with her husband Jim, she will be back on the campaign trail for the November General Election and possibly another first—the first female JP3 in Williamson County.
"I would like to continue the Teen Court program already in place. I have worked with our City's Teen Court program for many years. It is a positive for the community and an across-the-board win-win."
Visit EvelynForJudge.com for more.