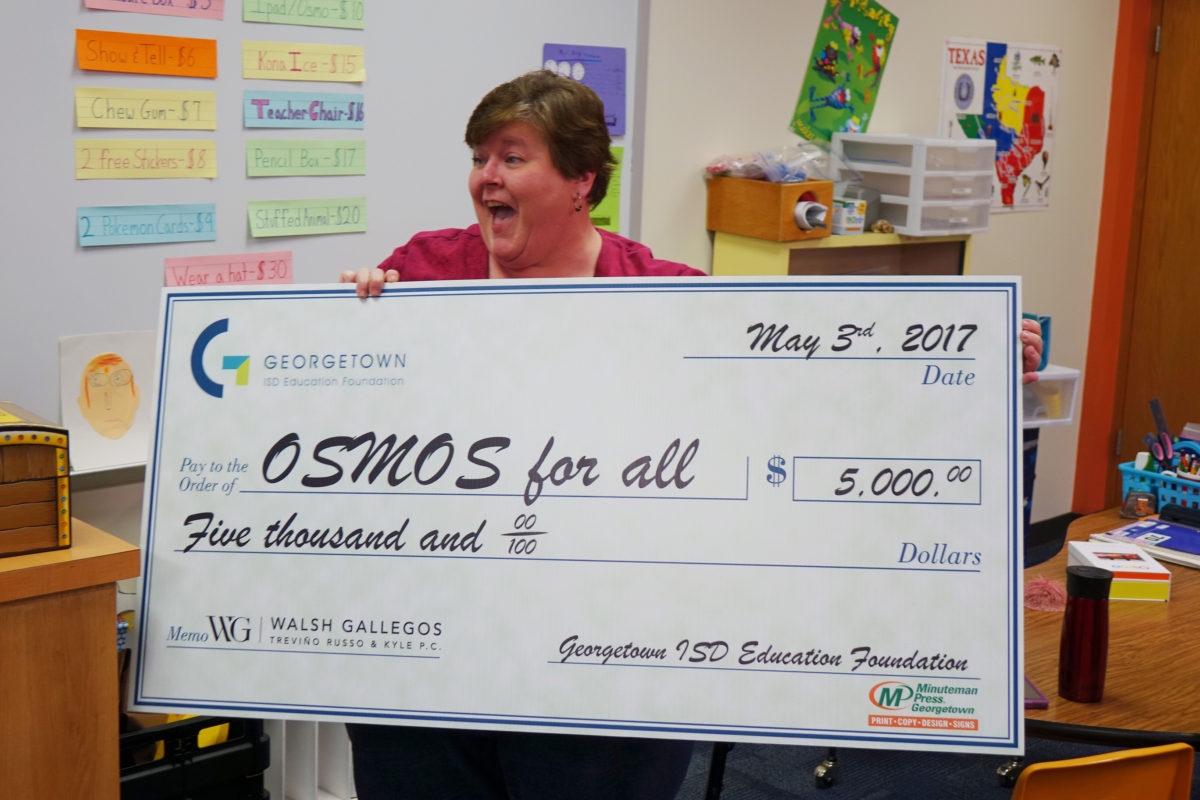 For the second year in a row, the Georgetown Education Foundation surprised teachers across GISD with grant money for a variety of special programs and projects. Members of the Board accompanied Dr. Fred Brent (above) on the "limousine" bus to deliver nearly $30,000 in grant money, which was raised over the past year.
Earlier this year, teachers submitted proposals for the 2017-18 school year. Board member Jerry Hammerlun, who helped hand out the very large checks, said "This is a great day. We look for projects that focus on innovation that is in line with the goals of our school district and this year's awardees proposed everything from software to better classroom furniture." Hammerlun is particularly passionate about ergonomics and the impact it has on the learning environment, energy and wellness of students and teachers. Melanie King was one of four McCoy elementary teachers who received an award. King (pictured right with Jerry Hammerlun) received a grant for new chairs for Flexible Seating. Dr. Brent praised Ms. King for thinking of the kids and giving them better options.
Frost Elementary math teacher Robyn Hart (above right) received $5000 to provide Osmos for All. Osmo is an educational game accessory that enables students to engage physically on a desktop using reflective technology for math, programming, spelling, art and other applications.
Other grants included bi-lingual learning, field trips, outdoor learning areas, Lego Robots, and college readiness.
Board President Greg Bowden says, "It's just a coincidence that this is Teacher Appreciation Week but they all certainly deserve everything we can do for them. Many teachers spend their own money to enhance learning in the classroom and we're happy to give back to them."