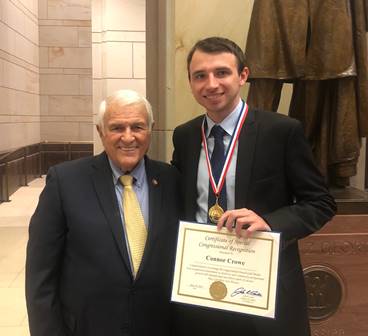 Georgetown Resident Receives Gold Medal Award
Congressman John Carter (TX-31) awarded the Congressional Award Gold Medal to Georgetown's Connor Crowe in Washington, D.C. Connor joined 538 winners from across the U.S. to receive the highest honor Congress bestows to America's youth.
"Winning the Congressional Award requires an unparalleled work ethic and devotion to the local community, and Connor certainly represents those qualities," said Rep. John Carter. "Our community is very proud of Connor's remarkable achievement, and we can't wait to see what he accomplishes in the future."
Connor is currently studying environmental health science at Baylor University. As an Eagle Scout, he dedicated countless hours maintaining and constructing improvements for local parks and recreational areas to be utilized by the community for years to come. In addition to his community service, Connor is only the second Boy Scout from Central Texas in more than 100 years to earn all his merit badges, 142 badges to be exact.
The Congressional Award Foundation is a public-private partnership created by Congress to promote and recognize service, initiative and achievement in America's youth. Eligible individuals, ages 14 to 23, earn may earn a Congressional Award by setting and achieving challenging goals in the four program areas: Voluntary Public Service, Personal Development, Physical Fitness and Expedition/Exploration.