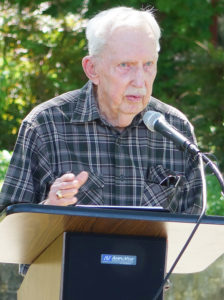 Just when you think things couldn't get any better, you better take a look at Georgetown. The mayor of the fastest growing city in America leads a city with a stellar credit rating, the lowest effective tax rate in central Texas, and the second safest city in the Lone Star state. Now, Mayor Dale Ross will add another notch to his belt; his involvement in the historic groundbreaking of Garey Park.
On March 31, 2017 the city of Georgetown officially broke ground on what will become the largest park in Georgetown and the second largest city park in the state of Texas. With more than 150 in attendance, on what used to be the front lawn of benefactor Jack Garey's ranch, the Mayor, city officials, developers and Mr. Garey himself turned the dirt on what will certainly be a legacy for his generosity and his family.
Mayor Dale Ross proclaimed, "Georgetown has a very proud and storied history, but today, we are at an event, that is my view, will stand the test of time for the next two hundred years or more. Can you imagine what the surrounding community will look like in 200 years? It will be built up in ways we can't imagine today and this will be the 'Central Park' of Georgetown; 525 acres of green oasis. I hope everyone will remember this in context. This is a day that, when you read the history of Georgetown, will be recalled as a history-making day. I can't think of anything in our 169-year history that compares to this gift that will keep giving for many more generations to come."
City Councilman Tommy Gonzalez added, "It's a beautiful day, and we are so blessed that Mr. Garey chose to entrust the city of Georgetown with the future of this beautiful park. We are incredibly thankful for his generosity and we will work hard to ensure that it lives up to its infinite expectations."
The 525-acre ranch, which is located along the South San Gabriel River, was donated by Jack and Cammy Garey in 2004 along with $5 million for Park Development. In 2008 voters approved a bond for an additional $10 million for the park's construction.
This project is just one in an array of explosive growth since Mayor Ross was elected three years ago. Under his leadership, the city has seen a turnaround in economic development, despite inheriting a decade long anti-business legacy from the last administration. Since his election, this Mayor has utilized his extensive financial tax preparation background and his previous corporate financial experience to help chart a steady, secure, and stellar course for city finances. He is also cognizant that "the growth that comes to Georgetown must be measured and in no way detract from the unique quality of life that citizens have enjoyed here for decades."
Alongside this commercial growth, Georgetown is home to the largest and most prestigious builders in the country with the recent addition of Ross Perot, Jr.'s Wolf Ranch Hillwood Project, a 755-acre master-planned residential development. In addition, local resident and central Texas developer Jeff Novak conceived and executed the Rivery project which includes the anchor Sheraton Hotel and Conference Center, as well as upscale residences, offices, restaurants and retail. Furthermore, Georgetown's landmark San Gabriel Park is undergoing an extensive renovation that will make it the envy of downtown city parks anywhere in America.
"I don't believe there is a better job in America than mayor of what I truly believe to be the greatest city on Planet Earth," comments Ross who is currently running for a second term as Mayor. "With the support of this extraordinary City Council and City Staff, Georgetown will continue to grow and prosper, while always maintaining the unique quality of life that draws citizens here."