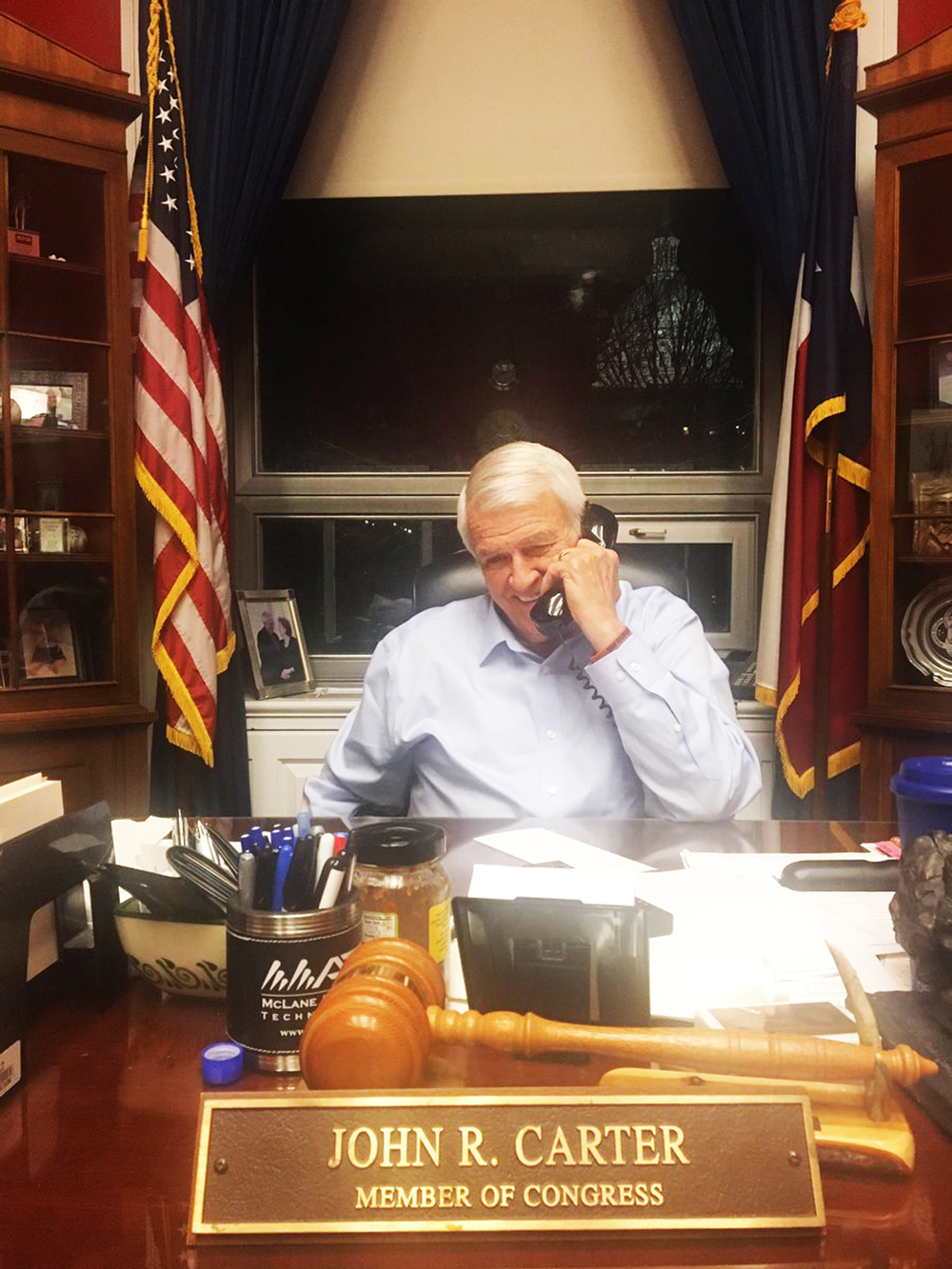 by Rep. John Carter
House Republicans have long promised to repeal and replace Obamacare, and earlier this month we delivered.
After voting more than 60 times to repeal and replace Obamacare, I supported the American Health Care Act (AHCA) when it passed the House of Representatives on May 4, 2017.  The AHCA replaces Obamacare with a patient-centered system that expands choice, lowers costs, and provides freedom and flexibility to states. This legislation is a victory for families and small businesses, providing long-awaited relief from Obamacare's mandates that rob Texans of the freedom to make their own health care decisions.
The AHCA empowers individuals to purchase an affordable healthcare plan that fits their priorities, not those dictated by Washington. It protects those with pre-existing conditions, expands health savings accounts, and allows young people to stay on their parents' insurance until they are 26. It strengthens Medicaid to help those most in need, eliminates the individual and employer mandates, and dismantles the Obamacare taxes that have prevented too many people from accessing the care they need. Additionally, the AHCA defunds Planned Parenthood, and ensures no tax payer dollars are used to fund abortion.
We've cut back on the burdensome taxes imposed by Obamacare, repealing the prescription drug tax, the "medicine cabinet" tax, and the health insurance tax. These taxes have increased the cost of health care and placed an unnecessary financial burden on individuals and families. Through major entitlement reform to Medicaid, the AHCA will save $840 billion and provide nearly $1 trillion in tax relief.
Alongside President Trump, House Republicans promised protections for those with pre-existing conditions. The AHCA upholds that commitment, guaranteeing coverage and the renewability of coverage for those with pre-existing conditions.  It also ensures no insurance company can deny coverage due to a pre-existing condition.
The AHCA contains two additional layers of security for these individuals.  It allows states to apply for a waiver from certain federal insurance regulations that increase premiums, but specifically clarifies they cannot limit coverage for those with pre-existing conditions. This waiver will only be given to states with high-risk pools and other protections in place.  For states seeking a waiver, the AHCA also provides an additional $8 billion, on top of the $130 billion available to states through the Patient and State Stability fund, for those with pre-existing conditions who haven't maintained continuous coverage.
Obamacare is on a downward spiral where one in three counties across the country only have one health insurance provider, and the American people want and deserve relief. The AHCA takes vital steps towards lowering costs and expanding coverage, empowering Americans to choose a plan that's right for them. This bill is the first step in providing a more consumer focused marketplace, not a government mandate with burdensome taxes. I look forward to continuing to work with my colleagues and the Trump Administration to make other important policy changes that will help reduce health care costs and improve the quality of care for all Americans.   
Rep. Carter represents Texas District 31, which includes Fort Hood, the largest active duty armored military installation in the free world. He serves as Chairman of the Homeland Security Subcommittee on Appropriations, co-chairman of the Congressional Army Caucus, is on the Subcommittee for Commerce, Justice and Science and the Defense Appropriations Subcommittee.