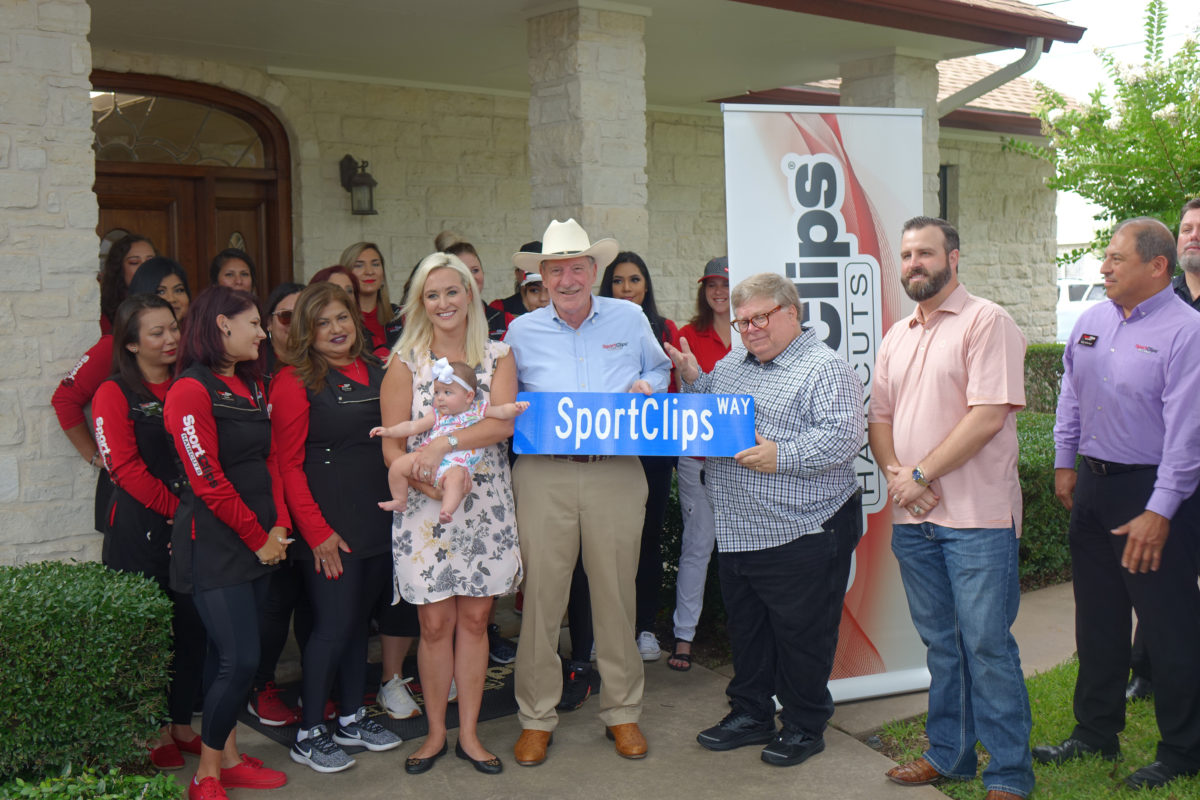 The City of Georgetown officially changed Briarwood Drive, between Williams Drive and Rocky Hollow Trail, to SportClips Way to honor the headquarters of Sport Clips Haircuts in Georgetown. New street signs for SportClips Way were revealed July 11 to mark the occasion.
Gordon Logan, SportClips CEO, Mayor Dale Ross, city Council members, and Georgetown Chamber of Commerce members were in attendance to celebrate and honor one of Georgetown's best corporate citizens.
Sport Clips is one of several organizations to shine a national spotlight on Georgetown's thriving business community. Mr. Logan opened his first salon in 1978 and today has more than 1800 locations in the United States and Canada. Mr. Logan asked the City if it would be possible to rename the street, "It is just one block but we are the only address on it. We appreciate that our buildings will be easy to locate and it is a nice gesture by the city."
SportClips headquarters has 85 employees who work in two buildings. Logan said he opens about 100 new stores each year. "Georgetown not only has a great business environment but it is a nice place to live and raise a family. It is great to be able to bring talent here from across the country. If we can get people to move here from San Diego, we must be doing pretty well and we plan to stay here. The service we provide will never be outsourced to or done more cheaply in another country; it can't be moved to an online space and people will always need to have their hair cut."
In addition to their tremendous growth in the market, the company, and Logan himself provide a great deal to support for many of Georgetown's non-profit organizations. Mr. Logan affirms he has a special spot for children and veteran charities and is a regular sponsor for the City's Field of Honor, ROCK, the Child Advocacy Center, Boys and Girls Club, the Georgetown Project, CASA and many others.
Mayor Dale Ross said, "It is an honor to be the hometown of a truly international company. SportClips is an asset and an integral part of our city. The company is a great corporate citizen and I hope they will continue to give back; in fact, I wish all companies were as generous as SportClips and Gordon Logan."